MONTEREY BAY
BOAT CHARTERS

831-372-0599
Special Charters – Burial At Sea
Saying Good-bye With a Burial At Sea
People who love the sea often ask that their ashes be scattered on the ocean. This is a beautiful service, with the remains and flower petals mingling on the water as friends and family say good-bye.

Our Sea Burials are performed approximately 1 mile offshore from a variety of lovely locations, including Lovers Point and Pt. Pinos Lighthouse in Pacific Grove, Carmel and Pebble Beach.

On a typical 1-hour boat trip for scattering of ashes, your group will board and travel about 20 minutes, the boat will be brought to a rest and the ashes will be released by your family or our crew. The vessel will then circle the ashes, and then we will return to the harbor. A memorial certificate with date and GPS coordinates will be mailed to the family.

In case friends and family are unable to attend, we also offer unattended scattering of ashes, in which we sail to a point off the coast and release the ashes for you.

Permits are Required – Monterey County Regulations
For sea burials offshore of Monterey County, you will need to go to the Monterey County Health Department (1270 Natividad Road, Salinas, CA) where the health department personnel will fill out the "Application and Permit for Disposition of Human Remains". For planning purposes, here is a sample application that shows the information you'll need to provide. A permit can be obtained from the Monterey County Health Department Vital Records located at 1270 Natividad Road, Salinas, CA; phone number (831) 755-4506. The Permit Fee is $11.00. Line 16a should State "At sea off the coast of Monterey, CA". To conduct a burial at sea, we are required to make sure you have obtained a permit.

When the deceased is cremated, the facility handling the cremation will ask the responsible party what the final disposition will be. The permit will state where the burial will take place. Usually it will say "At sea off Monterey County, CA."

For deaths that occurred in California, the cremated remains will be accompanied by this permit. We will provide you with the coordinates where the scattering of ashes takes place, and we will fill out the form and return it to the authorities as required.

If the death occurred outside of California, the cremated remains might not be accompanied by any paperwork. However, a permit will still need to be issued from Monterey County. Often, families hold the cremains of one person until the mate passes away, then the ashes of both are scattered together. This is a sweet thing to do, but cremains that have been stored must be accompanied by a recently issued permit for burial at sea.
Rates and Additional Information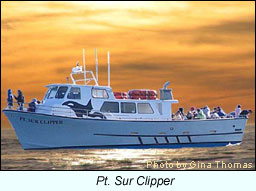 Our rates for burial at sea are very reasonable. They are $450 for a one-hour burial at sea on Pt. Sur Clipper (up to 48 passengers) as our schedule permits. Additional charges are $200 per hour for each additional hour and $75 for each additional burial (if there will be more than one burial on a single trip). Generally we schedule burials either before 9:00 a.m. or after 2:30 p.m. Mornings are usually best because conditions are calmest then. One hour is plenty of time for a simple burial at sea, but for folks who want to go to a special location, have larger parties or would like their event catered, we have more options. Contact us by email at

if you have questions. We will help make this final remembrance everything you have in mind.

Flowers and petals can be scattered on the water as part of the burial at sea ceremony, but balloons and styrofoam are not permitted, as such items cause harm to Marine Life.
Visit the Monterey Bay Boat Charters home page to learn more details about about the boat used for burials at sea (the Pt. Sur Clipper).

See our Burial At Sea brochure summarizing this information, in pdf format (opens in a new browser window...please close that window when finished).

Please print our "Authorization for Burial At Sea" (pdf file, opening in new window), fill it out and bring it with you when you arrive at the boat for the burial at sea. You will also need to go in person to the Monterey County Health Department office, where the health department personnel will fill out the "Application and Permit for Disposition of Human Remains". You'll need to bring a copy of that completed form along when you board the boat. If you're shipping the cremains via mail for unattended scattering at sea, please include the"Authorization for Burial At Sea" in the shipping container.